Intensiva spanska kurser
sedan 1964
Intensiva spanska kurser i Gran Canaria
GRAN CANARIA SCHOOL OF LANGUAGES är specialiserad på undervisning av E/LE (spanska som utländskt språk) för utlänningar sen 1964. Under dessa år har många elever spritt ut skolans rykte över hela världen. Lärarna är högt kvalificerade och har hög erfarenhet av att undervisa i E/LE (spanska som utländskt språk).
The Gran Canaria School of Languages offers intensive Spanish courses to foreign students with accommodation since 1964.
Our Spanish courses are offered all year round in six levels, in groups and in private or semiprivate lessons and are aimed to adults who are either having their first contact with the Spanish language or to those who wish to improve their knowledge.
Our courses are recognized for Bildungsurlaub.
The school is open all year round and only closes on public holidays. The hours of those days are made up during the other workdays of the week.
The school offers general Spanish courses in groups and private classes, and Spanish for specific purposes or preparation for official examinations only in private classes.
General Spanish courses
Spanish courses for specific purposes
Business Spanish
Spanish for tourism
Spanish for health services
Spanish for cabin crew
Preparation for official examinations
Spanish + sports
Accommodation
With breakfast. Optional half-board
Private bathroom
Free Wifi, TV and safe box
Method
Teachers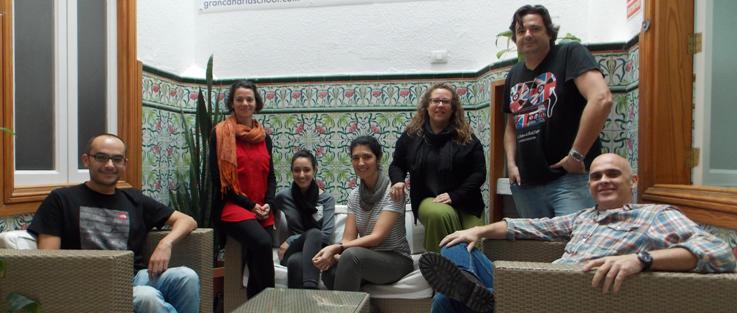 Our 10 guaranties
No registration fees
The school does not charge any registration or booking fees for courses or accommodation.




All Spanish levels throughout the year.
We do not close for holidays. The school stays open all 12 months of the year.




Four levels run throughout the year
We run our groups in the levels A1, A2, B1 and B2 throughout the year, and level C1 from October to March.




20 hours/week
All groups will have 20 hours of tuition per week regardless of the number of participants




All classes are made up
The school only closes on bank holidays. All classes pertaining to those days are made up during the same week.




Any course as of 1 week
Any course may be booked as of one week and for as many weeks as desired.




Qualified and experienced teachers
All our teachers are native speakers. They hold a university degree in Spanish philology or linguistics and have long experience in teaching Spanish as a foreign language.




Accommodation near school
Stay at our residence halls and reach the school in 15 minutes or less by foot along the beach promenade. No public transport needed.




Food preferences are respected
When booking our half board, your meal preferences will be respected: vegetarian, celiac, allergic to lactose, etc.




Online learning
Try our online course of levels A1 and A2 before you arrive and after you leave. This will help you maintain and enhance your Spanish level after you return home.
Access to our online course is free for all students staying at our residence halls.
---
| | | |
| --- | --- | --- |
| | | |
GRAN CANARIA SCHOOL OF LANGUAGES has specialized in teaching of Spanish as a foreign language to foreigners since 1964. During these years many students have expanded the reputation of the school worldwide. The teachers are highly qualified and have a long experience in the field of teaching Spanish as a foreign language.
In 1994 the school was officially congratulated for its 30th anniversary by the Canary Islands Government through the Tourist Board of Las Palmas de Gran Canaria as well as by the City Council through its Tourism Department for its many years of fruitful activity.
In 2014 the congratulations to Gran Canaria School for its 50th anniversary were renewed.
---
Gran Canaria School of Languages is a member of FECEI, the Spanish Federation of Language Teaching Centres.
---
1994 blev skolan officiellt gratulerad på sitt 30-årsjubileum av Kanarieöarna regeringen via Las Palmas de Gran Canarias Turistpatronat liksom av stadens Kommun via dess Turistkontor för sin mångåriga givande aktivitet.
2014 blev Gran Canaria School of Languages åter gratulerad, nu på sin 50-årsdag.
---

Gran Canaria S.O.L. är medlem av diverse kulturella, profesionella, spansk turism- och lokalföreningar. De bästa resebyråerna och kurser i utlandet representerar oss i hela världen.
2001 fick skolan utmärkelsen för förrättningar som rekommenderas av CIT (Centrum för initiativ och turism) på Gran Canaria och i vars organisation skolan sen dess är medlem för sin utmärkta pedagogik och lärare för att undervisa i spanska och för kvaliten på inkvarteringen av dess elever.
---

Gran Canaria S.O.L. är sedan 1986 erkänt av regeringen i Hamburg och Hessen (Tyskland) och under senare tid även av många andra som medarbetare av undervisning i E/LE i profesionell utbildning (Bildungsurlaub).
---

Gran Canaria S.O.L. är den enda skola i Las Palmas som har rätt att utföra proven DIE (Internationellt diplom i spanska). DIE har akademiskt erkännande av kurserna i Spansk språk- och kultur vid Universitetet Pontificia i Salamanca.
---
De blå markeringarna på kartan visar var vi finns: skola, inkvartering och busstation Sta. Catalina:
The school was well recommended by a friend. I rate the course overall as excellent and I recommend the school to other students. I will book a Spanish course at the school again.
Kristin Sigurttardöttir, Iceland